At times it can seem taxes only go up, up, up. When the Washington State Legislature finalized the 2-year budget on April 28th, it included a Real Estate Excise Tax (REET) reduction on the first $500,000 of all real estate transactions. However, this new graduated tier tax will not be a tax savings for everyone.
In fact, the new Washington State Real Estate Excise Tax will be the highest real estate transfer tax in the country when it goes into effect on January 1st, 2020. The intent of the new tax structure is to reduce the tax obligation on the majority of residential real estate sales, while increasing taxes significantly on luxury properties and commercial real estate sales.
Most municipalities in our area stack an additional .5% on top of the state REET. (For more explanation download this flyer created by CW Title and Escrow
CLICK HERE
.)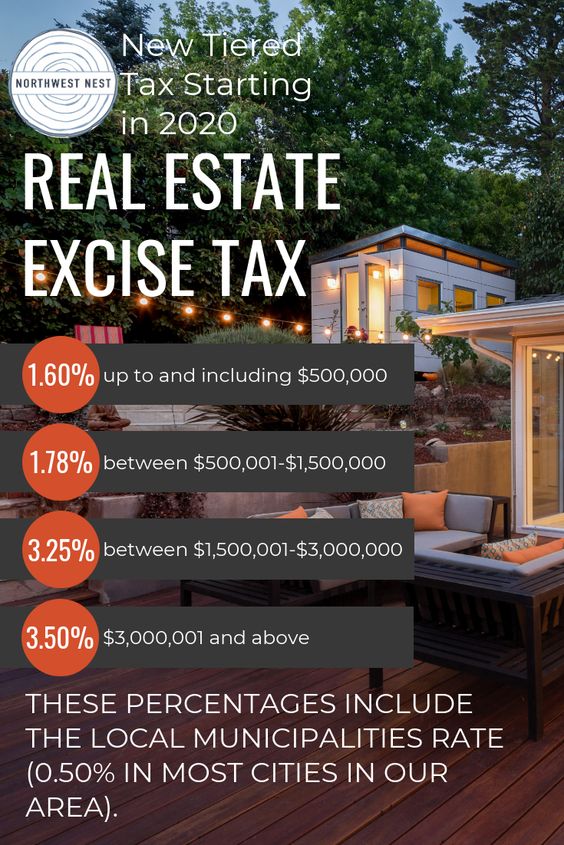 Unimproved property (land for development), agricultural land, and timber land remains at the 1.28% rate, regardless of price.
This graphic provides an explanation of how the graduated tax is calculated when a property sale price is high enough to move on to the next tier. On a $750,000 property the first $500,000 is calculated using the lowest tier percentage, while the second $250,000 is accounted at the higher tax percentage.
If you are planning to sell commercial real estate or a luxury property, now is the time to do it! The savings on property over $1,500,000 can be significant. Please contact us for a price evaluation and proceeds assessment to determine your best course of action.