It wasn't the shaking that woke me up, it was the roar.
At about 3am on the morning of July 12th, 2019 I was awakened by what sounded like a sonic boom and the roar of locomotive. Within seconds my bed was shaking. Nothing fell off shelves or crashed to the ground and as soon as it started, it was over. An earthquake.
Pause. Long enough to think "there will be an aftershock".
Then the second roar with a rattle of the earth.
Turns out the shaking started near Three Lakes in Snohomish County. The earthquake was relatively shallow, originating about 14 miles beneath the surface, according to a USGS map.
Fast forward to the work day following the earthquake and we are all chatting about what it felt like, are we prepared for a natural disaster, and when will the next event be?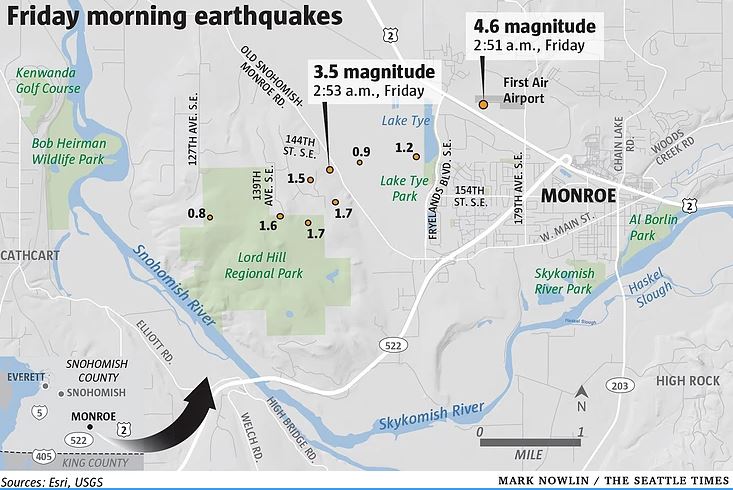 Our team has done some research on preparedness. Here is what we have uncovered:
Talking and visualizing what to do can help you and your family remain calm during a natural disaster and spring into action after the event occurs. Set up a plan based on different scenarios of a natural disaster.
IF YOU ARE INSIDE WHEN THE SHAKING STARTS,
experts suggest that you drop, cover and hold on. Getting low will increase your ability to balance during the shaking. Covering your head, neck and torso will protecting you from breaking glass and falling objects. Finally, not unlike a roller coaster ride, hold on! It will be over relatively quickly.
IF YOU ARE OUTSIDE WHEN THE QUAKE BEGINS,
experts suggest that you head for clear, open spaces. Try to move away from power lines, street lights and trees. If you are in your car, stop and stay in your car. Be sure to get away from bridges and overpasses.
We highly recommend that you put together an Emergency Preparedness Kit (EPK). The kit should include enough fresh water to last 36 hours or more, non-perishable foods, an emergency kit, batteries, flashlights, and a warm blanket. (Many more items can be included. The best EPK's are designed based on your families needs.)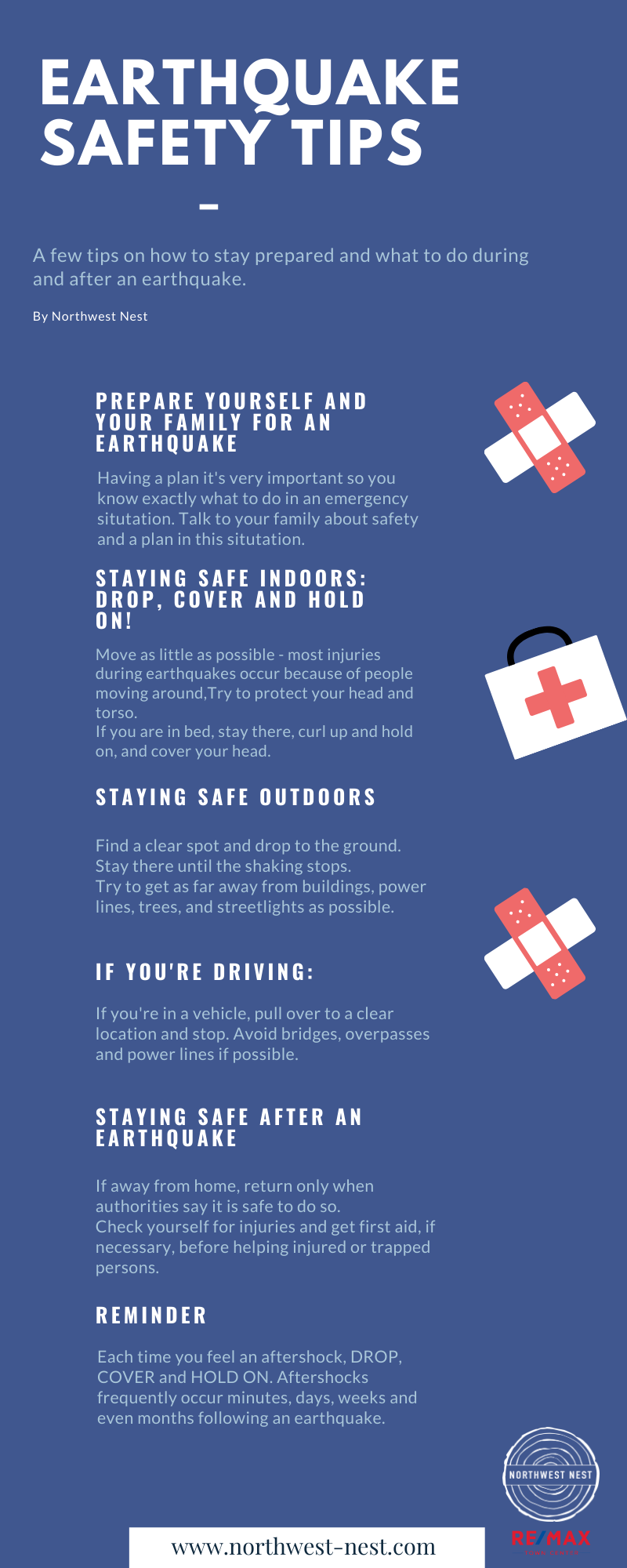 WHEN WILL THE NEXT EARTHQUAKE HAPPEN IN WASHINGTON STATE?
Knowing that another earthquake is inevitable means the best course of action is to be prepared. Take a minute today to think about, talk about and plan. That way when the time comes, you'll be ready!